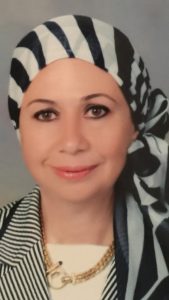 Emeritus Professor of Pediatrics, Alexandria University.
Member of National Council for Women.
Member of the Egyptian Senate.
Dr. Hind Mamdouh Hanafy has graduated from the Faculty of Medicine , Alexandria University (AU) in 1975 and is proud of having obtained both her Master and Doctorate degrees in Pediatrics from the same University. She continued her professional career in both teaching and research until she became Professor of Pediatrics in 1995 and has established the Pediatric Gastrointestinal Endoscopy Unit in 1992.
In 2003 Dr. Hanafy was appointed as Director of Medical Education Center in Alexandria Faculty of Medicine (AFM) and with her perseverance it was upgraded to be a Medical Education Department. In 2004, she was appointed as Vice Dean of AFM for Graduate Studies and Research and in 2006 as Vice President of Alexandria University for Graduate Studies and Research.
In 2009 Dr. Hind Hanafy was appointed as President of Alexandria University, becoming the first woman to preside an Egyptian Governmental University. During her presidency AU ranked 147 in Times Higher Education World University Rankings (2010) among the best 200 Universities in the world and AU's research income increased five times. In the same year she was elected as President of CONFREMO (Conference of Presidents of Francophone Universities in the Middle East). During her presidency of AU she was also member of the Board of Trustees of Bibliotheca Alexandrina , Egypt-Japan University of Science and Technology (E-JUST) and the Euro-Mediterranean University of Slovenia (EMUNI).
In 2011 Dr. Hanafy was awarded Chevalier de la Legion d'Honneur by the President of the French Republic ; Mr Nicolas Sarkozy.
In March 2017 she received her best award from President Abdel Fattah El Sisi acknowledging her efforts and achievements for the University and for Egypt.
Dr. Hind believes very much in women's capabilities and wishes that more female presidents will be appointed for the Egyptian Universities.