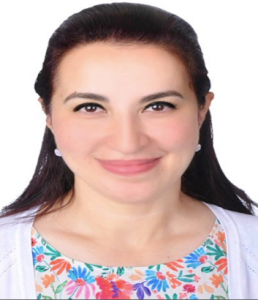 Associate Professor of Public Health and Epidemiology
Advisor to the President of AIU for internationalization & global engagement
Biography
Dr. Gihan Gewaifel is an associate professor of Public Health and Epidemiology at Alamein International University. She has been teaching public health and epidemiology since 1997 in Alexandria Faculty of Medicine, and Armed Forces College of Medicine. She holds a Ph.D degree in Public Health from Alexandria University (2006). She is currently serving, since September 2021, as advisor for president of Alamein International University (AIU) for internationalization and global engagement, and director of Public Health Program in AIU. Prior to the current job, she has been the assistant of Vice President of Alexandria University for education and students affairs, and the officer of Internationalization of Higher Education and Global Engagement for three years.
Between 2006 and 2013, Dr Gihan has been working as an epidemiologist for the World Health Organization in Eastern Mediteranean office in Cairo, and Head quarters in Geneva, Switzerland and other stations, as data manager for global tobacco control report, surveillance officer, consultant and principle investigator of several projects funded by WHO. She is interested in epidemiological studies and conducted in Kuwait, Syria and Egypt several workshops on outbreak investigation. During her affiliation to Armed Forces College of Medicine in Cairo, she was appointed to represent AFCM as the research coordinator with Michigan state University during their partnership. During this partnership, Professor William Cunningham, Dean of global Health Institute in Michigan State University selected Dr Gewaifel to teach and contribute to the Masters degree of Global Health in Michigan, USA.
Dr Gewaifel has acted (since 2019) as the coordinator of the research pillar of the USAID-funded project to establish a Centre of Excellence for water in Alexandria University, a joint project with a consortium of 5 American and 5 Egyptian Universities. She was also working as the University coordinator of the USAID funded project on USAID Scholars activity project in partnership with AUC. Dr Gewaifel is an active reviewer for several international Public Health Journals.
As the officer of internationalization in Alexandria University and currently advisor of AIU president for internationalization, she institutionalized internationalization by preparing the strategic plan for internationalization of the university , and the roadmap and action plan towards greater global engagement. Furthermore, she has been responsible for international partnerships and has facilitated several MoUs and MoAs as the dual degeree and joint program in medicine with Manchester University, UK, and students exchange program with Chicago University in AU, and Louisville, Temple and Virginia Tech universities in USA and Lyon III in France. She also managed international students mobilization, education abroad and faculty exchange, and international education joint research. She attended internationalization weeks to gain more skills on internationalization as in Granada (Spain) and Berlin (Germany).
Dr Gewaifel was also responsible for the "Students with Disabilities" file in AU and is a member of the Taha Hussein Centre for students with disabilities. In 2019, she travelled for a disability support services study tour in Montatan University, Missoula, in USA.
Dr Gewaifel is currently directing the first public health bachelor program in Egypt. A unique program in the Middle East for undergraduates delivered in Alamein International University since 2021.
She has Excellent command of writing and speaking fluent English and Moderate German (reached G3 in Ghoete Institute).